I was amazed to know what Edmontonians have planned to do this spring in Canada. Well they are going about for a beautiful mission to beautify their land by planting trees one at a time. That's a very decent drive. One thing that we miss in our busy daily lives is about thinking of the environment and the fast pace at which it is deteriorating. While one thing that can save (or majorly contribute in saving) our environment, are the trees. Planting trees is actually very pious job to do. I mean, we enjoy planting a tree and observing it as it grows, like our own child. Apart from that, its high time that we become conscious of saving our dear planet from the environmental degradation.
The green drive named as
"Guerilla Gardeners Vs Jasper Ave"
is surely a very bright act in this direction and we actually need more such initiatives.
"Long Live the Green"
There is nothing very cheery on the "sending flowers online" & "Online flower shops" front. 1800flowers.com , proflowers and ftd.com are still featuring the same old products with no freshness (newness). However, as always, the dear TELEFLORA has again come up with a beautiful Merchandising Text adjacent to an equally beautiful flower.
Check out their
beautiful Spring Farewell Collections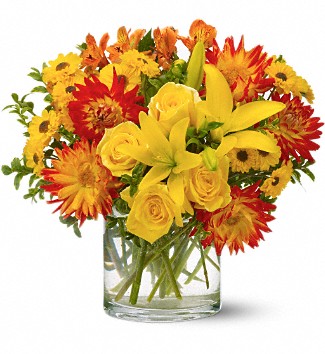 I don't know but I like the Teleflora flowers the most, they have a sense of freshness and spirit raisers attached to them somehow and they really come up with all the beautiful designs and arrangements. That might be one reason they are considered the best among all other online florists and online flower shops by the Real Florists Community. The visually pleasing designs are really a treat. What a day would they make if someone orders them.
The Flower News:
Good Flower News:
Even the badly hit economy and the surging fuel prices couldn't put a damper on flower sales at the Toledo Flowers Market – See Vendors Joy
: Reported by ToledoBlade.com

Not-so Good to hear news:
The rapidly changing climate puts worry lines on the forehead of Designers at the Chelsea Flower Show

: Reported by The Canadian Press.


(I somehow started disliking the word "Bad" attached with flowers. It makes me feel as if the flowers are bad. So I have thought of using a phrase – "Not-so Good to hear" or if you could come up with some good, one/two words as the replacement, I will be glad to use them. As it is, I am not that good at English)