Tulips are a fascination. That's all I would say? No I wish to talk more about tulips today. After all, I have the best tulips deal on offer for you today. Tulips have a peculiar history that many of you must be knowing. However, for those who don't know about this, my post will be useful (Hehe).
Tulips were first cultivated by the Ottoman Turks sometime long ago in around 1000 AD. Yes, by the Turks. But now no longer associated with the Turkish, Tulips have closely allied with Holland, which is claimed to be largest Tulip cultivating country in the world. Tulips are the third most popular flowers in the world next only to Roses and Chrysanthemums.
Tulips are actually Lilies with the Plant family – Liliacae. The lovely flower is a bulbous plant. Actual name of tulips is 'Tulipa' and it's a genus of about 100 species of such flowering plants!!. (How many are on sale?). Guess what is it called in Turkey? ….Lale (Yes, that's what its called). And Tulip was brought to Europe in the 16th Century.
Ok. What about the cultivation? Tulips actually originate from mountainous areas with temperate climates. They need a period of cool dormancy. The beautiful flower has 3 flowering seasons from March to May. You can find Tulips from March to May. Anything found before or after that may either be imported from somewhere or are the greenhouse tulips.
And yes, ever heard of so many people together getting crazy for a flower? Yes it was called "Tulip Mania" a frenzy that hit Europe in 1630s. Tulip Festivals are held in Netherlands, England and North America & Canada in May. In Australia, too, the flower is getting popular. The world's largest public display of the beautiful flora happens in Netherlands only.
Tulips send a lovely meaning and is mostly coupled with the couples. Yes romanticism is the essence of Tulips. Tulips go very well with other spring flowers. A nice mix of only Tulips is a bouquet is the perfect gift you can send anyone.
Of course, Tulips are a fascination and that's all I would say.
Best Flower Deal of the Day
:

Teleflora Mix Pink Tulips at $68.95 only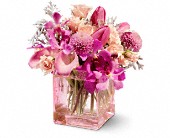 (Important – a 10% off teleflora promotional code is embedded in this deal. Yipee!)

FLOWER NEWS:
Good Flower News: Check out Flowers & Fashions in Chicago.. more>>
: by C S Monitor

Not-so-Good Flower News: 1800 flowers shares drop.. more>>
: by Barrons