The Japanese Andromeda Flower is a peculiar flora and. Andromeda is a broad-leaved evergreen Asiatic shrub with glossy leaves and drooping clusters of white flowers (commonly white flowers). The Japanese Andromeda is a shrubby evergreen heath (Pieris japonica).
The Andromeda is an Ornamental Flower that simply looks beautiful in a garden. "Heliconia Psittacorum" is another flower of the same genus which is beautiful. Pieris is a genus of about seven species of evergreen, white-flowered shrubs and small trees, of the heath family (Ericaceae), native to eastern Asia, eastern North America, and Cuba. The leaves are usually alternate, broad, leathery, lance-shaped, and toothed. The flowers, which are cylindrical or urn-shaped, have five sepals and grow in terminal or axillary (sometimes branched) position.
Now, why I am writing about a not-so-popular flower today. Simply because I noticed that people have been searching for Andromeda seeds and moreover I have been thinking of getting my readers (who are very small in numbers ) to get more educated on the flowers. Ha! What an idea.
Anyways, I have been searching for some online store to buy seeds online. But not found one yet where you can get uncommon seeds too. Japanese Andromeda Seeds are hard to find. And once I find an online store that is selling Japanese Andromeda seeds, that will be the one I am looking out to. You can however buy Heliconia Psittacorum
here

With Father's day over, I am sure you guys must have had a fun day. And I am sure you must have sent all beautiful flowers & gifts to your daddy. Brazil Valentine's day is also over and there was a lot of fun in Brazil. I shall do a post on both of them for my friends in e-business where I shall use my analytical eye of the occasions with respect to the business done. Lets see what comes out.
BEST FLOWER DEAL
Check out Teleflora's beautiful arrangement for a
New baby Celebration at just US$ 49.65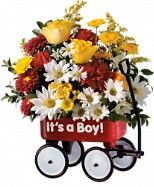 FLOWER NEWS
Good Flower News:
Visions of wild flowers ..
more>>
: Reported by Telegraph Journal
Not-So-Good Flower News:
Flowers on Fathers Day?.. more>>
: Reported by Evening Sun